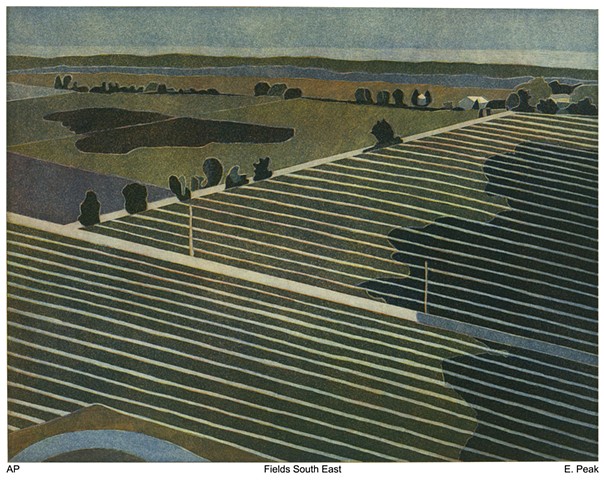 This is an Aerial view from a tower near the railroad tracks in North Platte, Nebraska. From the tower (the Golden Spike) one can see a virtual 360 degree view of the farms, fields and tracks, near this well known stopping place in the state. As a child it meant seeing my mother's family, full of terrific cousins.

Elizabeth J. Peak 2018
Ft. Belvoir, VA, 1952
Although I have lived all over the US, I identify strongly with the Midwest, where I began college at the University of Nebraska ( 1970-fall 72) and where later my family suffered a terrible tragedy. As a result I moved during my junior year to the west coast and finished at the University of California, Santa Barbara which had a terrific visiting artist program and where I met Michael Mazur. He changed my life by inviting me to work with him for a year at Brandeis University and creating a print portfolio with which I could apply to graduate schools.
I realize now that he must have known my story and did this in part out of kindness. I think he also liked the prints I had done in the print class he was visiting. Whatever the reason, I had not known about the world of art that existed beyond the classroom and this move open my eyes and gave me a direction. It also made me realize how much there was to learn so I began soaking up everything I could while in graduate school at Yale and beyond.
I majored in printmaking because it was a concrete skill that I could teach. Later I added watercolor, drawing and collage as major aspects of my work. Mazur's work relied heavily on large scale monotypes and it was this bridge between etching and watercolors that I began to pursue in earnest. Like any discipline fine art has trends and at this time the monotype was seeing a resurgence across the country although the technique is quite old (15th C.)
I taught for ten years at the college level, printmaking, drawing, painting and various other things after graduate school. In 1984 I met my husband while teaching at Holy Cross College in Worcester MA. After having a child I decided to work on my art and the child and give up teaching. Later we had a second child and I picked up teaching again when he was in 4th grade. About the same time I began working in color etching in earnest.
After many years of working in black and white I began working in color etching in the 90's again trying to bring my interests together in the prints Olympia I and II. Although seemingly tedious, a hallmark of printmaking is the quality of light the paper creates as it illuminates color. The color is very brilliant so part of the job is to figure out ways to diminish color intensities through mixing colors through overlapping, much like a watercolor. So my color prints are made up of three plates red, yellow and blue, from which I make all of the colors you see. So although time consuming the effort is worth it when one sees the luminosity of the image.
For me, landscape subject matter covers a variety of subjects. They are at once a geographic personal history— the mid-western farm fields where I spent a large portion of my formative years, Germany where I lived for a year in high school—and nature as a spiritual touchstone, where nature resonates with one's spirit or soul.
I'm not looking for things that are inherently beautiful. Rather, gas stations, city streets, rural or forested places are all equally compelling. I'm not looking for a specific place like a hometown or famous monument. Foremost, I'm looking for an interesting composition and how that places the viewer in a particular relationship to the subject. Also I'm looking for how the light creates a certain mood or feeling even an atmosphere between the viewer and the landscape.
This is the essence of Realism: to account for the abstract variables represented in the image making up the "picture".